Introduction
Introduction
Open Educational Resources: Basics and Beyond is designed to supplement the Online Consortium of Oklahoma's (OCO's) OER: 101 and OER: A Deeper Dive course modules. The eight self-paced modules serve as an introduction to open educational resources (OER), as well as provide an opportunity for further exploration and discovery of OER and open education practices. Throughout the modules and textbook there are opportunities for you to test your knowledge and further explore a concept. The materials allow you to learn at your own pace. While you can follow the modules in any order, it is recommended that you start with Module 1 and progress through in order. Most of the chapters conclude with a Concept Review activity that provides the learner with immediate automatic feedback to confirm understanding of the material.
Learners working through OCO's course modules should return to the OCO Learning Portal upon completion of each chapter to complete another opportunity for you to review significant points discussed in the module and demonstrate mastery.  If you do not have an OCO Learning Portal Account, use the button below to request one:
There are two digital badges to be earned as one works through the course and this book:
OER 101 – Can be earned upon completion of Modules 1, 2, 3, and 4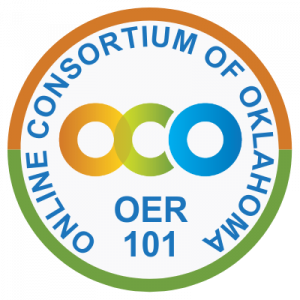 OER Champion – Can be earned upon completion of the remaining four modules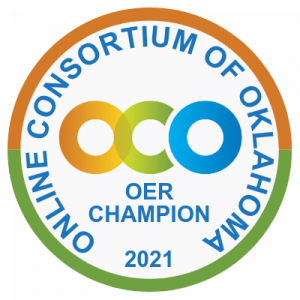 Upon completion of the eight modules, one should be able to:
Define Open Educational Resources
Explain the rationale for OER adoption and use
Explain the differences between the six currently available Creative Commons licenses
Identify repositories and other resources for finding relevant OER
Use tools and criteria to evaluate OER
Recognize steps and associated criteria for adapting and creating OER with proper attribution and licensing
Create an open educational resource
Recognize the OER movement in Oklahoma
Review the current landscape of OER in Oklahoma Higher Education
Recognize different Oklahoma legislation on OER
Copyright & Attribution
Open Educational Resources: Basics & Beyond is adapted from:
Texas Learn OER by Carrie Gits for DigiTex, licensed under a Creative Commons Attribution 4.0 International License CC BY 2020, and is licensed under a Creative Commons Attribution 4.0 International License, except where otherwise noted.
You are free to copy, share, adapt, remix, transform, and build upon the material for any purpose, even commercially, as long as you follow the terms of the license.
Authors:
Jamie Holmes, Pamela Louderback, Ed.D, and Ann Raia for the Council for Online Learning Excellence (COLE).
Suggested Attribution for Reuse:
"Open Educational Resources: Basics & Beyond" by Jamie Holmes, Pamela Louderback, Ed.D, & Ann Raia, Council for Online Learning Excellence (COLE) is licensed under CC BY 4.0
Thanks to the following individuals, who reviewed the adaptation, Open Educational Resources: Basics & Beyond, prior to publication:
Caitlin Corbett, Bradley Griffith, Marla Lobley