40

Using Your College Library's Search Tool for Books and eBooks
How do you find books and eBooks at your college?
Your college or university library's webpage will have a search tool to help you find books and eBooks.   While search tools differ slightly from institution to institution, they all have very common features.
College and university libraries hold – either own or subscribe to – a wide range of materials: books, DVDs, academic (scholarly) journals, magazines, newspapers, and more. When you search a library's holdings, you will not only find what your library physically owns, but it will also search for materials that the library has access to digitally or online. This can sometimes be confusing and can lead to a lot of search results. Fortunately, library searching tools like Discovery and others can provide you with ways to limit your search results so that you can identify and locate the specific kinds of resources you need.
Example Search
Let's consider the scenario presented at the beginning of this chapter. You need to find resources related to the American Revolution—specifically you need to find two books and one documentary film. Let's look at how you can do this in a couple of different Oklahoma college or university library search tools.
If you search for American Revolution at Tulsa Community college using their Discovery searching tool on their home page, you will see a search result that looks very similar to the one below: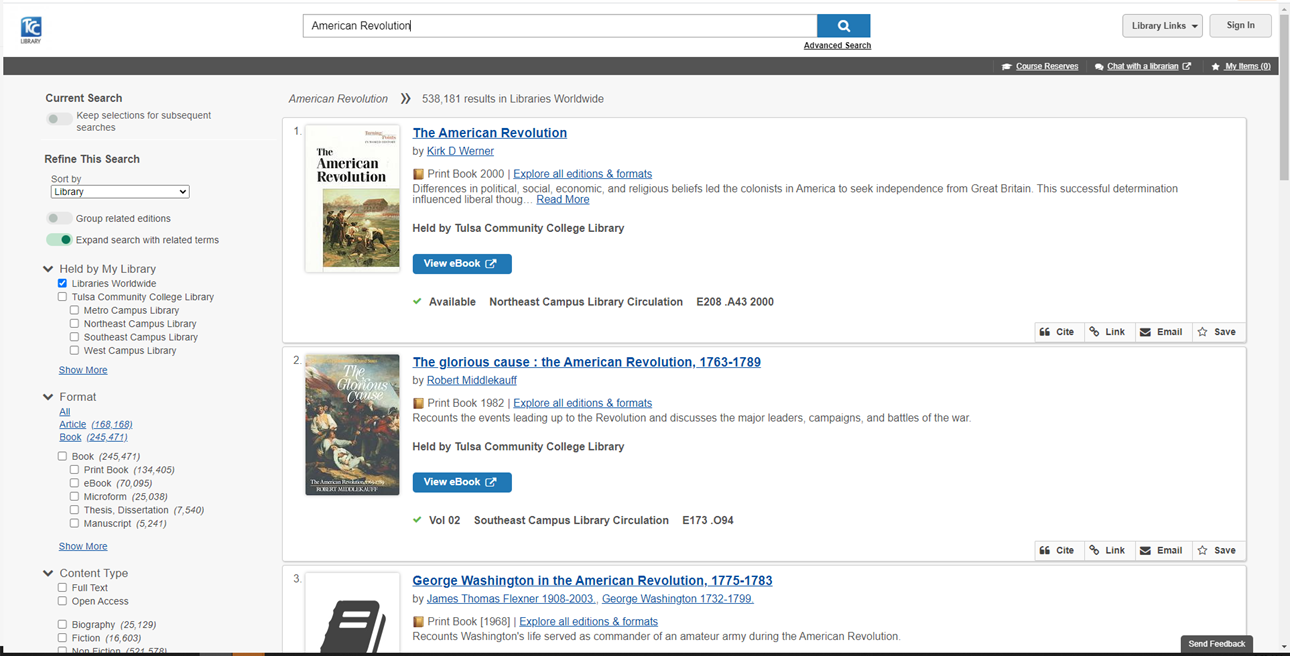 Filtering Results: Availability & Resource Type
In your search results, you should notice some key details. Pay attention to the area to the left of your search results, where you can use filters that control your search results.  There are filters that let you search for materials in a certain date range, look for particular formats like ebooks, books, journals or even an option to look at only peer reviewed materials! This is a great filter to use to limit your search results that you can access at your library.  While search tools differ slightly from library to library, in Oklahoma they all look like this: search results on the right, filters on the left.
Notice other tools at your disposal: you can see if the resource you want is available for checkout, and the location where that resource can be found.